The Diabology DVD
Discover a new age with the first DVD about the art of diabolo.
The 9 diabolists of The Mad French Posse present a complete set of 22 thematic videos (140 mn) from 1 to 5 diabolos covering the latest evolutions in the art of diabolo. You won't believe what can be done today with this little beach game... :-)

The DVD is produced and will be distributed in shops by . It is entirely directed by Art of Diabolo Society.

The DVD is available online here : FilmBaby (category Instructional)

If you want to sell or distribute the DVD, contact Mister Babache



---
Download the trailer
The trailer is available in two formats:

MPEG Medium Quality (14 Mb)
WMV Low Quality (4.5 Mb)
---
Detailed Content
EDUCATIONAL PART
4 videos ~ 40 minutes
with: Baptiste, JiBe, Priam, Trash, Vux
1 Diabolo
: Starts, Accelerations, Suns, Magic Knots, Satellites, Suicides and Genocides.
2 Diabolos
: Starts, Accelerations, Corrections, Suns, Sprinklers, Satellites, Transfers, Suicides, Fans and Mini-columns.
3 Diabolos High
: Starts.
3 Diabolos Low
: Starts, Synchronous Shuffle, Asynchronous Shuffle and Accelerations.
Introduction to
Siteswap Notation
for Diabolo High and Low.
FREESTYLE PART
8 videos ~ 1 hour
More than 300 tricks in 8 following videos.
EJC 2003 IN SVENDBORG
Where the story began...
(6 min)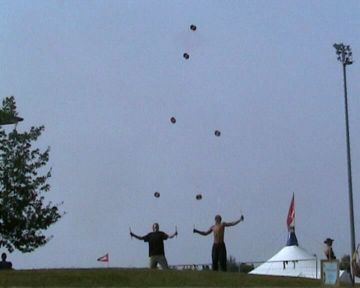 OUR SECRET by Lutin & Trash
Imagine a clown bringing you a new power ...
(1 & 2 diabolos creations, 9 min)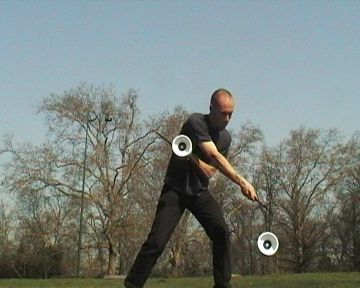 THE AWAKENING by Vux
Take a journey in the mountains with Vux
(1 & 2 diabolos creations, 6 min)
TONY'S FREESTYLE
Further, faster, higher with
bestaucasinosonline.com/ca/
the Tony's incredible style
(1, 2, 3 & 4 diabolos tricks, 6 min)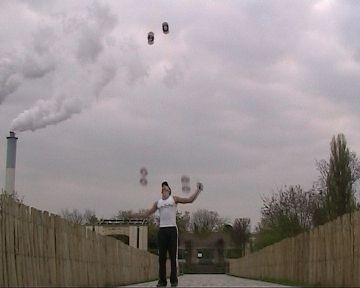 A NIGHT IN PARIS
The light show with luminous diabolos, with The Eiffel Tower in the background
(3 min)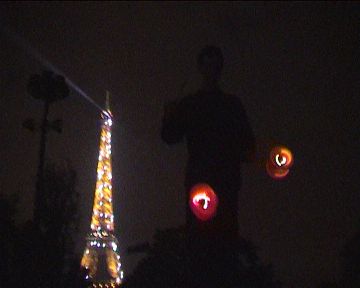 BAGUETTES AND DIABOLOS by Eric & Antonin
When suicides and genocides become a way of life...
(1 & 2 diabolos creations, duo tricks, 11 min)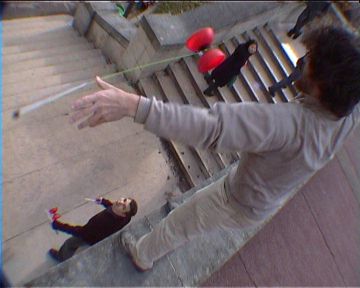 SITESWAPS FREESTYLE by Baptiste, JiBe & Priam
Putting theory into practice...
(3 diabolos high & low tricks, passing patterns, 12 min)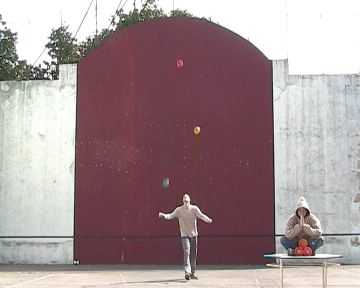 UNRELEASED
The diabolo obsession of The Mad French Posse
(1 to 5 Diabolos and a lot of diabolo fun, 11 min)
ON STAGE
4 videos ~ 20 minutes
Diabolo with an audience, be careful, don't drop !
Artists : JiBe, Vux, Priam & Tony
BONUS
5 videos ~ 15 minutes
Bonus should remain a surprise, should it not?
But thanks anyway to the guest diabolists: Bertrand, Adrien, Pti Vince, Jonas & Etienne
That's all for now.